Hi, everyone!!! I know I haven't posted in forever... well, nothing like the RUSH of having just seen an Al concert to kick start the posting again!

What follows is a combined review of the two concerts in Halifax on July 23 and 24!!!
First, I should mention that Al hadn't performed in Halifax or the Maritime provinces since 1999, so his presence here was a BIG DEAL! Another thing worth mentioning is that, for some reason, he was booked into a venue that only seated 657 people (the smallest venue he's ever played in Halifax, and quite possibly for a long time anywhere else!)
Anyway, I had a Czar ticket for the first show, so I went to the VIP party. I didn't expect to win the costume/lip sync contest (I wasn't even sure if I was going to enter), but, to my amazement, I did!!! I won a drum head! It came autographed by Al, but I got it autographed by Jon later as well, which was awesome!! I didn't really feel like I was wearing a "costume", per se, but my attire definitely had a theme, plus I got the trivia question about Al studying architecture in college. And then to win, I guess my lip sync to Like A Surgeon must not have sucked.

Everyone here knows Al's shows are awesome, so I don't need to go into detail about the songs and costumes. At the end of the first night, during one of the last songs, an audience member came up and started snapping selfies in front of the stage. He didn't just take one and move on, but kept taking them. Eventually, Al grabbed the guy's cell phone and slid it across the stage!!!
I got my poster signed backstage, which I am definitely going to get framed!!!!
On the second day, I had another opportunity to see Al offstage! Al attended an art show reception that featured a wooden marionette display of Weird Als (see his Twitter or Instagram if you don't know what I'm talking about). I wasn't sure if he would show up, so I kept my expectations low, but suddenly, right on cue, there he was, walking through the door!!!!! I had already gotten to meet with him the night before, so I decided I would just watch and not approach him, but I waved to him and he waved back! I couldn't stop smiling the whole time because I just thought this whole thing was SO cool. The room was very small, and although it was full, it wasn't like there wasn't room to move around. It was just comfortable and intimate. Al posed with marionettes, shook hands and took pics, sampled the free candy... and then it came time for the marionette show! Al sat on the floor right in front (no chairs were set up or anything) and recorded the whole show. It was just a few minutes long. They played a few of Al's songs in sequence (playing just a bit of each song) and the Al marionette and the props would change each time the song changed. Anyway, it was a special, one-of-a-kind event, and I felt very lucky to be there.
At the second concert the next night, Al made a joke before the polka. He said it had been 16 years since he'd played Halifax. I'm trying to remember what he said. Something like that it had been 16 years, but it felt like yesterday? I don't think that's it. But it was a mention about yesterday. At both shows, I got sung to during WBUL because I had aisle seats, though I did not get danced or gyrated upon. I bought some solo CDs from Steve on the second night and look forward to listening to them!
OK, so I saved a MAJOR part of my concert review (report) for last... and here it is!!!! My friend Devo (of this group), his sister, and I actually concocted a highly ambitious plan for the Halifax concerts. We were going to get the WHOLE AUDIENCE (yes, 650+ people!) to wear foil hats for the second half of the song Foil!! I was SO excited and giddy (and nervous, actually!) as we were planning out this whole thing, and up until a week before the show, I honestly thought we were going to make and bring all those hats!!! But, long story short, approaching casino management for permission became too daunting as I was worried they wouldn't go for it (I figured all they'd see was a big mess), so we ended up taking a more grassroots approach and switched to Plan B... which was bringing enough foil hats to the show to cover just the first few rows (giving security a quick heads up first) and trying to get the word out to as many people as possible to bring their own foil hats as well as a few extras for the people sitting around them.
Well, I don't know what the final hat count was, but two local papers mentioned the wave of foil hats that came out during Foil!! The audience seemed to have a good time with it and Steve was seen grinning from the stage, which was priceless! Al, being the pro that he is, was good at concealing whatever reaction he may have had, but I'm sure he noticed it. We all cheered loudly when he put his aluminum foil hat on, and then, before we knew it, the song was over. After the show, two of the roadies told us it was the first time they'd seen a crowd put on a bunch of foil hats at the same time like that and thought it was cool.
Well, here are the local concert reviews and a few more pics! When a video of the foil hats surfaces (our camera didn't record it, for some reason!), I'll post again to mention where it can be found.
Concert reviews:
http://thechronicleherald.ca/artslife/1 ... rd-ecstasy
http://metronews.ca/news/halifax/143710 ... ifax-show/
Foil hat-making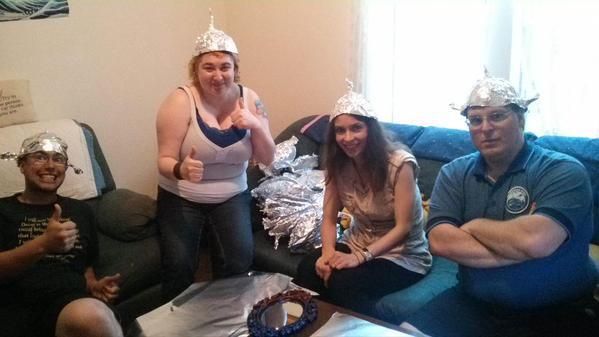 Foil hat-wearing