Alright! Jon will keep his immunity, and you cannot vote for him.
Tribal Council 13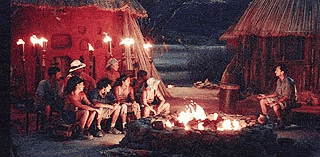 Each of you will send me a Private Message with the name of the person you want to vote out of the tribe. Please use their actual SCREENNAME, so that it will be easier to tally the votes. You can include a reason if you'd like, but you don't have to. Once you've cast your vote, you may not change it. If any Tribe Members fail to vote by 10 PM EDT Friday, May 4, their vote will count as an automatic vote against them. Once all the votes have been cast, I will tally and then read the votes.
Big Spoon
Killingsworth
RyanHippFTW
One of you will be the second-to-last person voted out of Weird Al Survivor IX and the sixth official member of our jury.
If you have the hidden immunity idol, this is the last round you may play it. If you wish to do so, you must inform me via PM before the voting deadline. Remember that you may not play it on behalf of another player, and you may not give it to someone else during the voting period. If there are any questions about Tribal Council, ask them here, but remember to keep all Chit Chat in the Chit Chat thread.